FootGolf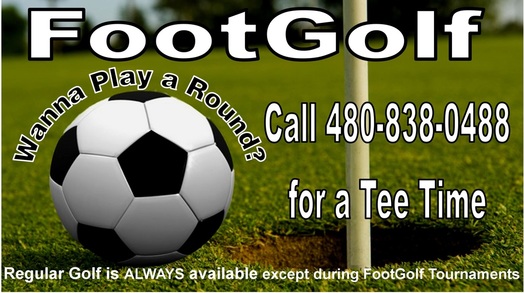 Shalimar was the first golf course to offer FootGolf in Arizona! Come on out and try this exciting new sport! Of course, we continue to offer traditional golf as well!
FootGolf is a combination of the popular sports of golf and soccer. The game is played with a soccer ball on a golf course with 21-inch diameter cups. The FootGolf holes are on their own greens and does not affect the course for regular golf play. Shalimar's FootGolf course in Tempe, Arizona, has 18 holes built around Shalimar's 9 golf holes. The sport is played in the traditional format of up to four players per group, either walking or using a golf cart, and trying to kick the ball into the hole in the least amount of strokes. The rules largely correspond to the rules of golf.
You can bring your own soccer ball (#5) or rent one from us. Indoor soccer shoes, tennis shoes or soft-spike golf shoes required – soccer cleats are not allowed.
We are proud and excited to bring this up-and-coming sport to Tempe, Arizona!
FootGolf hours for the fall are Monday-Thursday after 10am and on Friday, Saturday, Sunday and Holidays after 12am.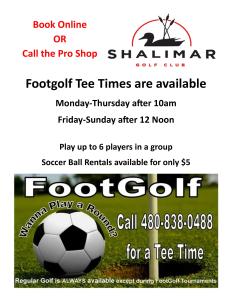 Another look at FootGolf from EuropeanTour.com:
http://www.europeantour.com/videoaudio/video/videoid=218926.html#