Welcome to Shalimar Golf Club!
"Tempe's NEIGHBORHOOD GOLF COURSE, BAR & RESTAURANT"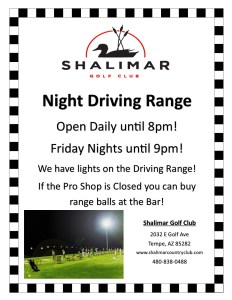 Our spectacular Shalimar Golf Club gives the golfer a feeling that is not found anywhere else near Tempe. We feature 9 holes of golf in Tempe that is ideal for all levels of golfers and is designed to help you improve your game. Our idyllic settings will let you step away from life for a little while and focus on your golf passion. Our professionally engineered course will challenge you to decrease your score on our fairways, various water hazards and tactically placed sand traps.
We also offer 18 holes of FootGolf and a popular Restaurant and Bar.