Leagues, Tournaments & Clubs
SUMMER GOLF LEAGUES
Our Monday, Wednesday, and Friday summer night leagues are open to everyone!
9-HERS WEDNESDAY LADIES GOLF LEAGUE
The Wednesday 9-Hers Ladies Golf League is a fun and social group that plays year round.  Check the bulletin board in the Clubhouse for more info and to sign up.
SATURDAY MEN'S GOLF LEAGUE
SHALIGUSTA GOLF CLUB
The Shaligusta Golf Club makes its home at Shalimar Golf Club. Open to all golfers, the Shaligusta Golf Club hosts two weekend golf events every month. If you want to play in some fun golf events, consider joining this wonderful golf club. With your membership in the Shaligusta Golf Club, you will be entitled to a USGA handicap and access to all of the Shaligusta Golf Club activities and events. In addition to the golf events, The Shaligusta Social Committee hosts a variety of wonderful events each year.
SPARK GOLF LEAGUE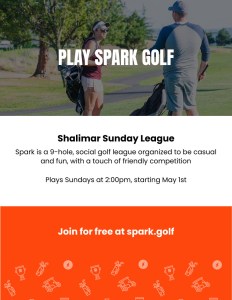 Click Here to Sign Up for the Spark Golf League
---